sala - schut entering worts cd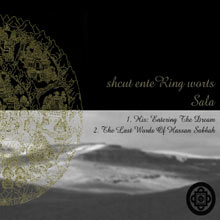 Autarkeia
Price: 8 EUR
Track 01
Track 02
"Schut enteRing worts" consists of two forceful tracks of "ritual ambient" style. They are not distinguished in the compact disk as the ritual couldn't and shouldn't be accelerated or perceived in separated pieces. Starting from hypnotic "mantra", music gradually unravels to the strong and mystical "ambient", the main feature of which being reiteration transmitted by the sound loops. These are organically supplemented by the tabors, bells, magic spells and mysterious sounds floating from the distance and generating only the strong mystic mood of the audience. Actually, concerning the impact, this music is in line with the works of world's famous artists acting in this field – Coil, NWW, Omenya, Hybryds, Deutsch Nepal. The "Schut enteRing worts" album was recorded by the participants of SALA project when experimenting with Brion Gysin's dream machine, which formerly inspired the well-known William S.Burroughs and had a strong psychedelic effect.
Album's tracks listing:
1. His: Entering The Dream
2. The Last Words Of Hassan Sabbah
Album lasts for 36 min. 26 sec. It's packed in a nontypical black plastic DVD case. We recommend you to listen to "Schut enteRing worts" only on Hi-fi stereo. Limited edition 500 copies. CD is covered with special lackuer which smells like an almond.